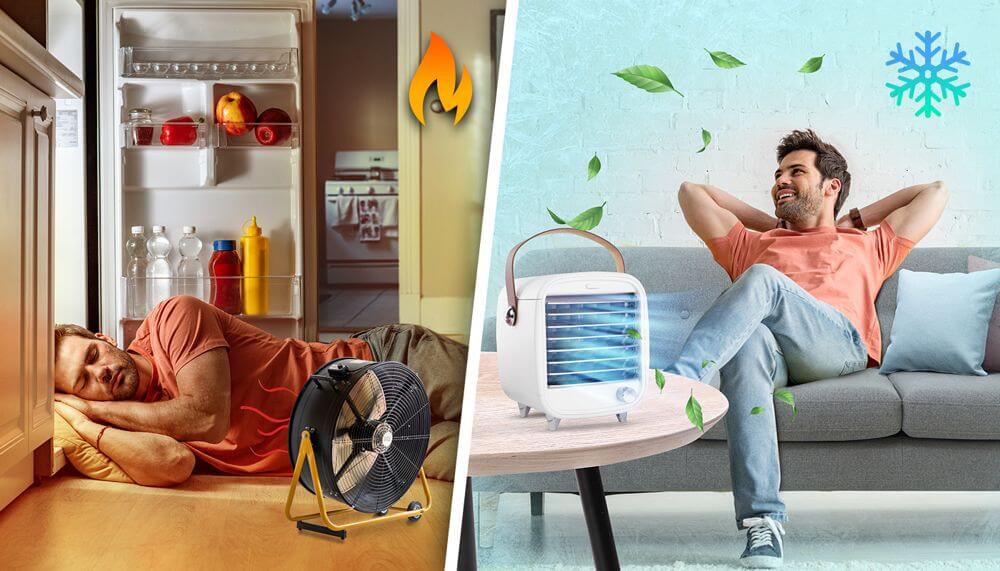 Description
Portable & Lightweight: Mini air cooler is only 5.7×5.2×6.8 inches and the small weight of 1.56 lb allow not only to carry it in the house, but also to take to any trip.
Cooling Down In Several Minutes: 3-tier refrigeration: Fan+Wet Curtain+Ice Tray bring you cooler air than others.The secret of  mini air conditioner portable is kept in the unique technology of hydrocooling using the special air filter-evaporator. It cools hot air turning it into cool and refreshment. It suits any place in the house! At the same time, due to the innovative economical cooling system, the individual conditioner costs much cheaper than big stationary conditioners.
Energy Saving & Low Noise: The model is equipped with an absolutely silent fan (50dB-58dB) That allows to use it even in the bedroom. USB mini air conditioner portable will not disturb or interrupt your sleep. Most effectively the device works as the personal air cooler, the device must be placed in a short distance of 0.5-1 meters.
Easy to Operate: First you need fill the ice tray with water and put it in the refrigerator to freeze and wet the wet curtain. Then plug it on your computer, power bank or adapter(Not included). Or you can add water to the water tank directly.
Specification
Name: Portable Air Conditioner
Humidification Method: Evaporative
Features: USB Connection, Wired, With Handle,Quiet Operation
Material:  Metal, Plastic
Number of Speeds: 3(Low / Medium / High)
Tank Capacity: 200ml
Handle: Leather Strap
Power: UBS Port
Application: Personal
Item Weight: 1.56 lbs
Product Dimensions: 5.7 x 5.2 x 6.8 inches
Noise level:  <60db
Package included
1 x Portable Air Conditioner
1 x USB Cable
1 x User Manual
2 x Ice Tray